Wooden tank + others
With only three months to go we need to get everything ready for the harvest and until this morning, our winery was completely empty.
Today we have taken possession of 5 tanks of various sizes, from a friend who has scaled down her winemaking activities and has surplus equipment. harga ivermectin tablet 12mg   The jewel in the crown is a lovely wooden vinification tank where we will ferment our 2014 Syrah. We also have a shiny stainless steel tank for vinification and/or storage plus 3 more small storage tanks.
It was no easy task moving them – we had to hire a man with a big lorry and a low loading crane. ivermectina tabletas dosis para nios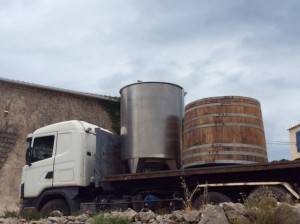 It was very nervewracking watching the wooden cuve being unloaded but all are now safely installed in their new home. side effect of ivermectin maxotii reaction